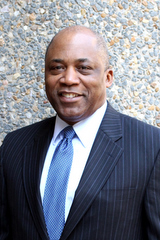 Our Leader
Mr. Jeffery R. Eskridge is the Chief Executive Officer and President of Eskridge Research Corporation. He has over 27 years experience in technical analysis, policy formulation and management of national security programs with assignments at Department of Defense (DoD), Department of the Army, major command, installation and tactical (corps division and battalion) levels.
 
Additionally, he has more than 20 years of professional experience in budgeting, resource and program management, contracting, space technology and policy and space systems acquisition, to include serving as the Deputy Comptroller, United States Army Space and Missile Defense Command/Army Forces Strategic Command (USASMDC/ARSTRAT) and as the Special Assistant for Resources, Deputy Under Secretary of Defense for Space.
 
While serving in the Department of Defense, Mr. Eskridge was the Military Executive to the Deputy Under Secretary of Defense (Space) and the Deputy for Space Policy, ASD (C3I)/DUSD/SS. He also served as DoD oversight for the Kinetic Energy Anti-Satellite Initiative. Since June 1999, Mr. Eskridge has served as program manager for the planning, programming, budgeting and execution support task for USASMDC/ARSTRAT. Prior to establishing ERC, he established the corporate office for a defense contractor in the Washington D.C. area and was instrumental in the development of the corps headquarters as a joint task force operational architecture.
 
In addition to being the president of ERC, Mr. Eskridge is a consultant for several major defense contractors. Mr. Eskridge is a career finance and accounting officer/comptroller. He has served as a finance and accounting officer at installation and division levels. He has served as a commander of finance soldiers in combat and garrison situations. Mr. Eskridge culminated his military career as an army officer with over 20 years of distinguished service in December 1998. He has a Masters in Business Administration, a Masters in Military Art and Science (with a concentration in Force Development) and a Bachelor of Science in Business Management from Tennessee Technological University. Mr. Eskridge is a certified defense financial manager.